Training
I call "Training" an activity that takes place over several days, consecutive or not. They are meant for individuals or groups of people who want to discover a little more about canyoning. The content of these trainings will be defined depending on the objectives, whether for the purpose of progression, travel abroad or discovery. These courses are built to suit your requirements. Do not hesitate to call me to discuss the possibilities. To get an idea, here are some examples.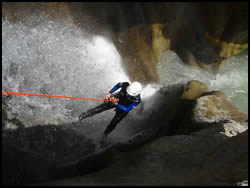 "Autonomy" : The goal of this training is to provide you all the necessary tools so that you become fully autonomous in a canyon. Classical maneuvers, tricks, emergency maneuvers, equipment tests, you will learn everything you need in a canyon. Participants must be able to demonstrate some experience in canyon, feel comfortable in the jumps, slides and abseils in order to focus on rope manipulation. The choice of the canyons depends strongly on the date of the activity and the weather conditions.
"Adventure" : the Bendola. This canyon is one of the longest in Europe. 15km long, the descent takes place over 2 days with bivouac midterm. You need to be sports people and already justifying a canyon experience because the first day includes a lot of abseils and all the equipment and the meals for the camp are to be carried in the canyon !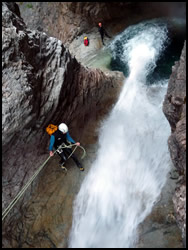 "Hinterland" : 2 or 3 days of canyoning spending nights in the camping Le Cians in the very nice village called Beuil. Most popular canyons : Vallon de Challandre, Clue du Raton, Clue d'Amen, Moulin de Roubion, cascades du Louch. This training is aimed at people who want to discover the hinterland of Nice in an original way.