Via ferrata, via corda
Vertical hike is halfway between hiking and climbing. During this activity, you will follow a "path" on a cliff. These activities are meant for usual hikers who'd like to add an emotional dimension to their traditional hikes, or for people who are not used to height and void and wish to confront their natural fears safely.
Click on the pictures to view slideshow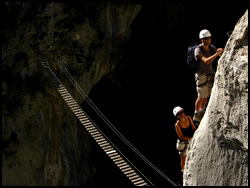 This path can be set up permanently as in a "via ferrata" (or railway in italian), where we progress with metal rungs and cables to climb the wall and obstacles. No prior knowledge is required to access to the great void, via ferrata is the easiest way to confront the great verticality. Aerial atmosphere and thrills guaranteed ! Even the least confident will take pleasure in walking on bridges and sliding on zip lines in beautiful natural landscapes. Let's go together to the nice villages of Peille, la Brigue ou Puget-Théniers.
For more pictures and informations, you can visit my blog.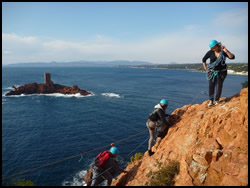 In a "via corda", you will find no rungs to help you. You will use the natural holds of the rock, walk on steep ledges and abseil. The security is provided by ropes. Much more participatory than a via ferrata, this adventure will teach you some rope maneuvers. Thrills guaranteed !
Located very near the Mediterraneen sea, where the Esterel moutains dive in the water, the via corda can easily be combined with a half-day of climbing or a lazy afternoon at the beach.
Price : 45€